Chutes, Stripping Chutes & Calf Creep Gates
Chutes, Stripping Chutes, Calf Creep Gates, Arena Harrows and Farm and Ranch Sprinklers and Roof Top Fire Suppression Sprinklers are some of the Custom items that CF has fabricated.
CF Fence fabricates roping chutes that are customized to the exact specifications of the roper. Each client positions posts according to the desired configuration of the roping chute. CF Fence measures up the chute's dimensions and angles, fabricates the customized roping chute in their shop and then returns to install the finished product.
The company responded to the fires of 2002 in the Okanagan, by fabricating fire suppression sprinklers. CF Fence's sprinkler line consists of a rooftop fire suppression sprinkler model and a ground sprinkler model with wheels.
The calf creeper gate was first designed to match up with pre-existing panels. There was a need to allow passage of calves but not cows into a small pen or enclosed area to escape bad weather/get to their calf supplements.
CF Fence's arena harrow can be pulled behind an ATV or Quad. The harrow loosens up the ground, breaking up lumps and smoothing off the bumps in indoors and outdoors arenas or pens. This harrow is practical and efficient - large enough to accommodate a sizeable riding arena yet small enough to be pulled by an ATV instead of a farm tractor. With a plan, a drawing or an idea and a little innovation, there's not much CF can't create with any steel and or Galvanized pipe and their hydraulic bender. Keeping quality, safety and cost-effectiveness in mind, they take pride in creating viable solutions for the farm and ranch community.
Custom Corner Roping Chute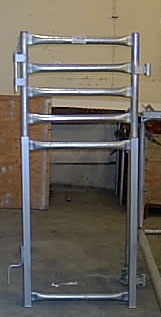 Calf Creep Gate
Stripping Chute
Dog Run
To keep your pet in safe.
Custom Built Blade for a Bobcat
With a Quick attach hookup for easy hook up.
Custom Built Horse Shelter
To keep the weather and sun off your livestock.
Custom Built Saddle Racks and Bridle Hooks
To go in the back of a stock trailer.
Custom Horse Trailer Panels and Carrier Brackets
Custom Horse Trailer Panels and Carrier Brackets