Manufactured from 1 and 5/8 inch galvanized pipe, panels generally come in 6 to 16 foot lengths and are built with 3,4,5 or 6 cross rails in between. As with all CF Fence products, panels may be customized to suit special requirements. Panels have a leg on each end and are a simple way to build portable pens whether out on the range, at home or attending an event away from home. Portable, weather-resistant, durable yet manageable, CF Fence's panels can be used to fashion a customized pen to fit along side horse and stock trailers. These panels may also be used out on the range, replacing the need for stationary corrals.
Panel gates are panels, as described above, with the inclusion of a 4 foot walk through gate or man gate which allows entrance into a created pen enclosure.
The gates are kept secure by a sturdy Sure Latch that works perfectly with CF Fence products.
CF Fence is your South Okanagan Distributor for: Sure Latch and GRK Screws.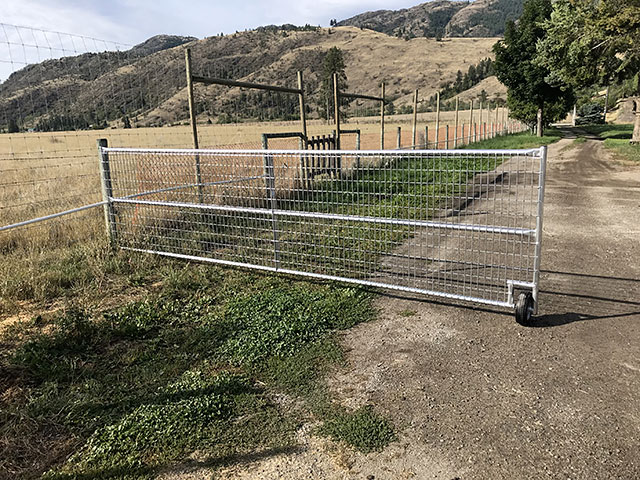 Non climb horse mesh gate
Deer fence gate with a walk through man gate
Deer fence gate with wheel